Sunday, September 05, 2004
Can you find Florida?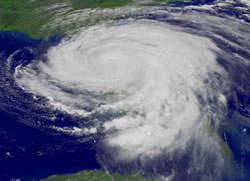 Can you find Florida? Here's a hint: it's under all the clouds!
Although we're pretty much done (for now) in Orlando, it's still rocking the Daytona area with squalls. This report came out recently:
Issued at: 2:56 PM EDT 9/5/04, expires at: 4:00 AM EDT 9/6/04

inland tropical wind warning until 400 am Monday
The circulation center of Frances will continue to move slowly away from the area tonight and Monday. However, gusts of 40 to 50 mph will occur overnight in a few squalls, possibly reaching 60 mph this evening. These winds are capable of producing damage to weakened construction, trees, and signs.
Additional downed powerlines and trees from overnight squalls will make clean up and driving dangerous Monday. Remain safely indoors through sunrise, and be extremely careful when going outdoors to examine damage. A majority of the injuries and fatalities associated with hurricane Charley occurred during the clean up stage.
So this will keep going even tomorrow. In fact, as Frances gets out into the Gulf, it's expected to intensify and as it does, the wraparound effects of the hurricane will effect us on Monday.
Subscribe to Posts [Atom]