Wednesday, September 08, 2004
C'mon Yellow! C'mon Green!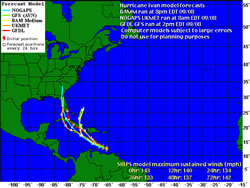 This is getting old
. Here are all the
computer models that are used
to make hurricane predictions. I'm currently pulling for yellow and green.
Before this summer, it was 44 years ago when a hurricane came to Orlando. But three in one month? Guess after Ivan we should be good for another 132 years.
Yeah, right.
Subscribe to Posts [Atom]